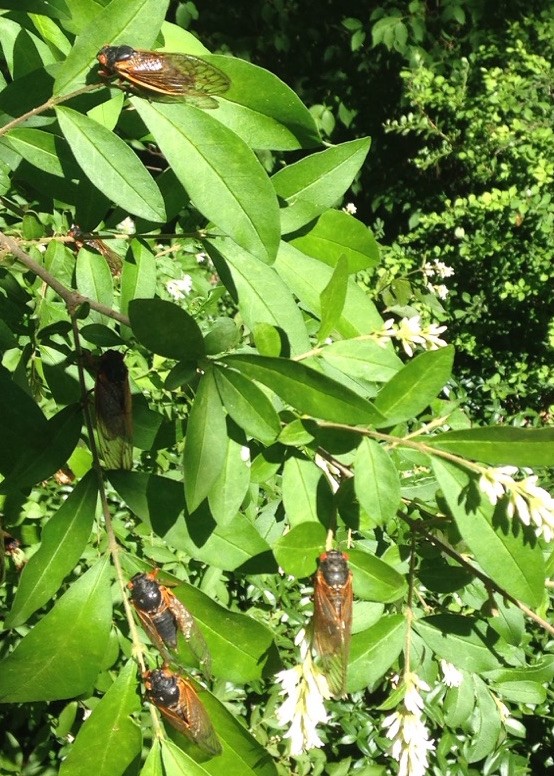 Summer has finally come to the north coast of Ohio, and so have the cicadas! I look forward to summer. It's the time when Clevelanders can actually plan outdoor activities with some assurance of sunshine, or at least warm temperatures. Okay, so we witnessed snow just a few weeks ago, but it reached 92 yesterday. I waited until the middle of May to make my annual trip to my favorite nursery where I happily filled my SUV with hanging baskets, large pots of geraniums and flats of petunias. With the various beds, window boxes and urns filled with vibrant color, I headed to the basement for the outdoor chair cushions. Visions of days spent writing under a colorful umbrella, sipping frosty glasses of iced tea, danced in my head. This was the year I was going to embrace summer . . . then the cicadas emerged.
It wasn't as though the noisy things were a surprise. The news stations had been filled with the stories of the event that happens every seventeen years.  I guess I'd forgotten what it was like. Then again, I remembered the old Maple tree in the back yard looking like it was covered in feathers. I'd forgotten about the loud vibrating sound they make beginning each morning around dawn, getting louder and louder as the day wears on until dusk. Then all is quiet. The ground is peppered with thousands of small holes . . . the door to the world beyond from which the insects emerge, then leave their shell behind to fly off. They aren't very good at the flying part. They just seem to fly until they hit something then latch on or fall to the ground. That something is often me. I have a new routine now. I make sure there aren't any sitting on the thresholds or hanging on the doors just waiting to "drop in" or being carried into the house on my shoulder. The good thing is that they don't bite. The birds, squirrels, chipmunks, snakes and probably a whole host of other creatures find them delicious. Well, not the wings. I find piles of them at our chipmunk's favorite dining places.
Needless to say, I'm not writing outdoors. Between swatting the flyers, brushing off the landed ones and listening to their loud mating calls, it doesn't leave much room for a creative mind. However, I've been assured that their short life span will be over soon, their larva burrowing deep into the ground and life will return to normal, at least for the next seventeen years.