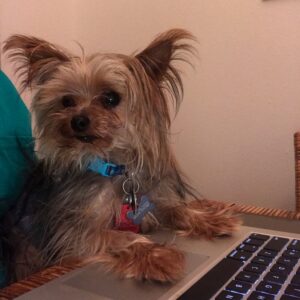 What a crazy year I had. Everything was planned and rolling along nicely, then COVID hit the fan.  I'm not telling you anything new. All of our lives were turned upside down. For me, writing stopped as I spent the first few months in front of the TV understanding what "social distancing" meant. In March my critique group met for the last time and I was left on my own to continue finishing It Started With Besse. There was no more on-site research (I love exploring my locations and getting a sense of what my characters experience. Like the damp, musty smell in an old, neglected building, or taking in the cool, wet air of a rushing stream on a spring morning.) No, writing was left solely to my imagination, but never the less, I forged on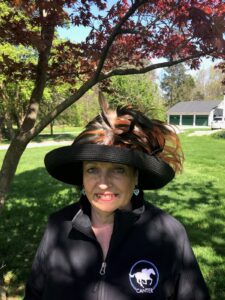 with a deadline of September 1st.
My 4lb Yorkie, Peluche, ever at my side, demanded I add more adventures to the dogs in my story, a Golden Retriever named Saint Nick and a Shepard/Wolf mix named Gunner. Of course I did as I was told and even added a 3rd dog,
I missed all of the outdoor events that were cancelled, but was ready for the trimmed down Kentucky Derby held in September. I watched from our booth at our local racetrack wearing my lucky Derby hat.
My September deadline came and went but I managed to finish the book and send it off to my beta readers. They loved it and I continued with the final edits in December. I'm happy to say that my next blog will have the cover design.